I did some testing yesterday with an LS Base sending out corrections via UHF (D8PSK) and the RTCM MSM3 Short message format. The Base is in a good open sky location. The test units were 2 LS's in a deep creek bottom with a lot of Holly trees (thick inpenatrable leaves) and various mature hardwoods without leaves. Also there was a 25 or 30' tall bank about 10' to the South. The test consisted of 2 different action profiles which were the same on both receivers. I will show the results of each test. The tests were selected to test the performance of each rtk firmware package and to see if a 2 engine fix will yeild an incorrect fix.
First test - started at 10:11 am - finished at 1:57 pm
The settings were 2 epochs required and 2 engines fixed. Duration was turned off.
On LS1 the 2 engine multi constellation package was selected. On LS2 the 6 engine multi constellation package was selected. The units were about 3' apart.
LS1 - The LS stored 151 points in a little less than 3 hours. This is a little bit misleading though. Below I will list the periods of time when points were collected.
10:11 Point 1
10:30-10:38 Points 2-48
10:41-10:48 points 49-84
10:57-10:59 points 85-110
11:45-11:49 points 111-115
11:54-11:59 points 116-126
12:12-12:13 points 127-133
1:00-1:01 points 134
1:05-1:06 points 135
1:10-1:11 points 136-137
1:15-1:16 points 138
1:27-1:28 points 139
1:37-1:38 points 140
1:48-1:50 points 141-151
I would count these blocks of collection as individual points. So really I would count this as 14 points. The point count is not important for this test. I basically want to find out if a bad fix can slip thru when 2 engines are fixed with the 2 engine rtk firmware and when 2 engines are fixed with the 6 engine rtk firmware.
NONE OF THESE SHOTS WERE BAD FIXES. 2 ENGINES 2 EPOCHS.
They are also pretty tight with one another for the area.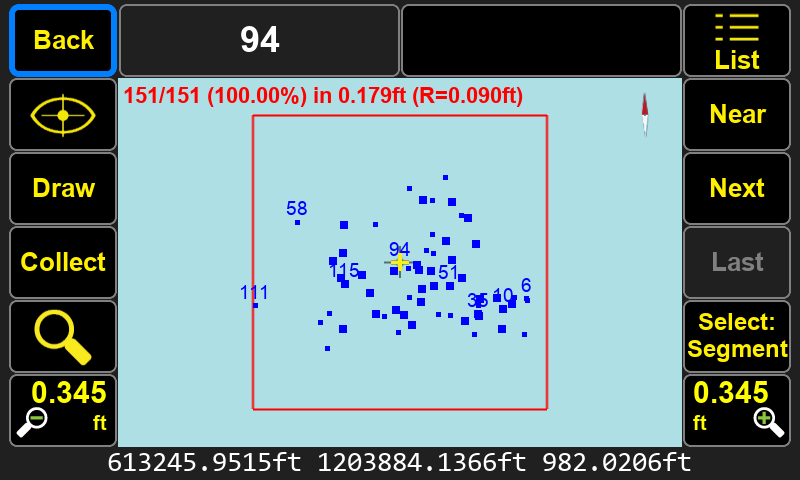 I am in no way telling you to willy nilly accept a 2 epoch point. (yet). I want others to post their experience and tell me if you see the 2 engine rtk lie when both engines are fixed. Imagine the time we may be able to save if it proves true. And, I still see a need to use one engine and use verification for your preferred duration. My hope is that at some point we can have the settings configured so you run the normal boundary profile with 1 min rtk engine but when 2 engines fix the shot is over (regardless of time spent there).
LS2 - 6 engine multi rtk...Same settings as above 2 epochs and 2 engines.
134 points stored
10:11-10:12 point 1
10:17-10:31 points 2-30
10:41-10:55 points 31-60
11:07-11:13 points 68-77
11:30-11:31 points 78-79
11:56-11:58 points 80-86
12:37-12:38 points 87-88
12:46-12:49 points 89-93
12:54-1:08 points 94-105
1:14-1:20 points 106-119
1:28-1:30 points 120-121
1:47-1:51 points 125-134
Looks like some
bad fixes
got thru with the 6 engine multi constellation setup. The correct fix is the cluster at 67.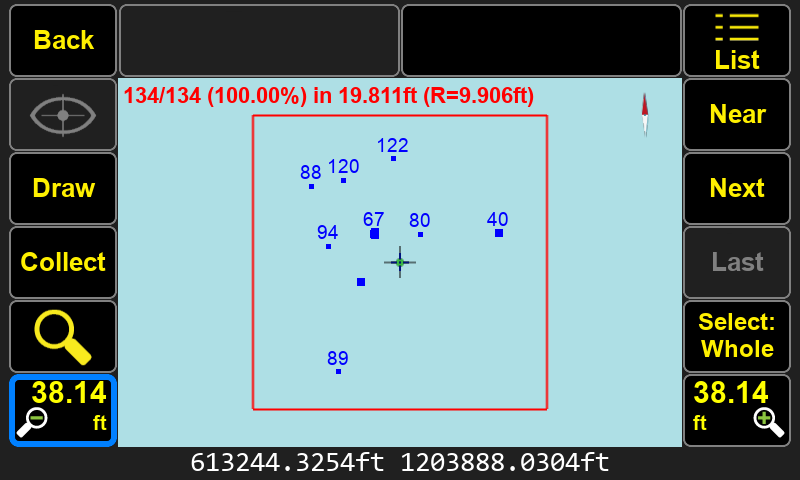 Here we have the correct group of points. We will count 33 in as well. 116 of 134 were correct with spread of about .19'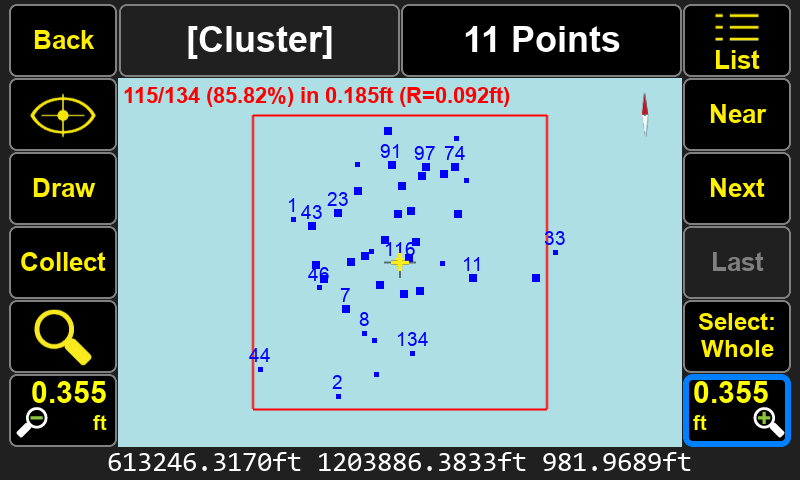 Second Test - started at 2:11 finished at 4:40
The settings for this test was total duration of 240, min duration of 180, min rtk engines 1 and validate with 1
I'm not going to run thru the time each point was selected with this test because it was pretty much a wash except for a little more precision on the 2 engine unit
LS1 - 2 engine multi constellation rtk
11 points All Good and within .09'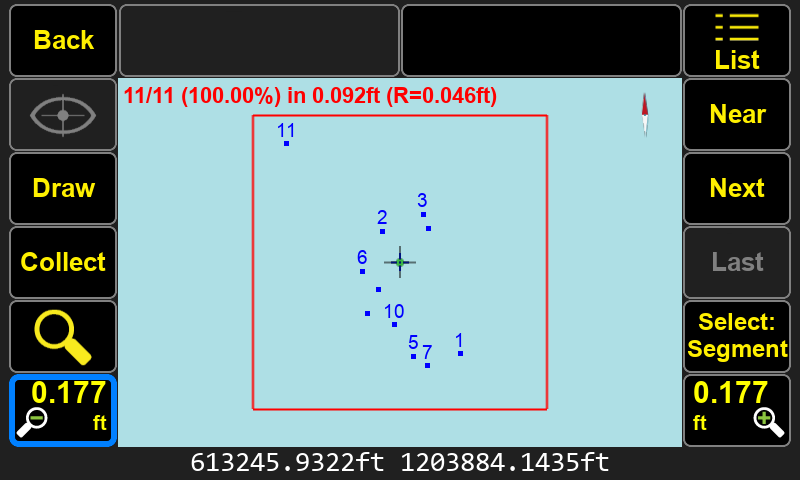 LS2 - 6 engine multi constellation rtk - 10 points all good and within 0.13'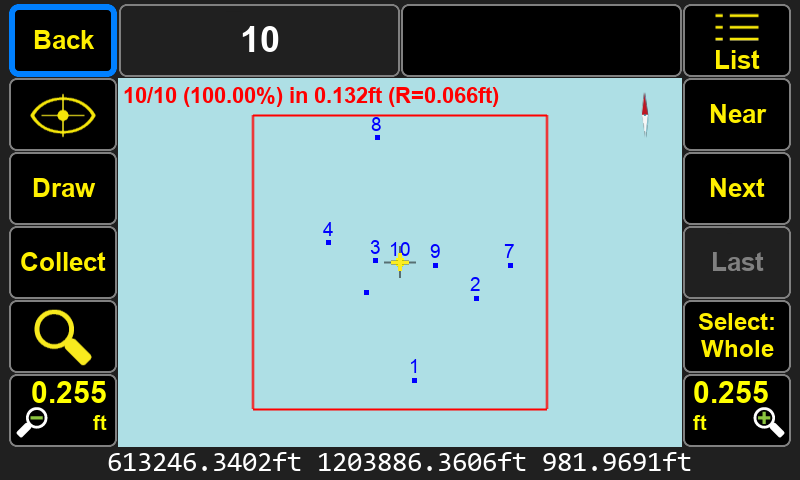 Last edited: