I converted a file from my T2 and sent it to OPUS, but got back an error message about incorrect formatting. I ran the RINEX file through teqc and got this message:
! Notice ! GLONASS: bad slot #= 25 being rejected @ 2014 Dec 22 16:54:00.000 (mi
n= 1, max= 24)
teqc: failure to read ' G16R18G18G29R24G21R25S35S
38' on line 95 of 'C:\Projects\1037-001\1037-001A\GPS Data\CS03A_165330.14o'
(invalid satellite number) ... exiting
It's showing a GLONASS SV in slot 25, which teqc doesn't like. When I look at the file in Jps2rinWin, it shows GLONASS slots 25 and 26 in red, but I don't know what that means.
Here's a snipped of the Jps2rinWin setup screen: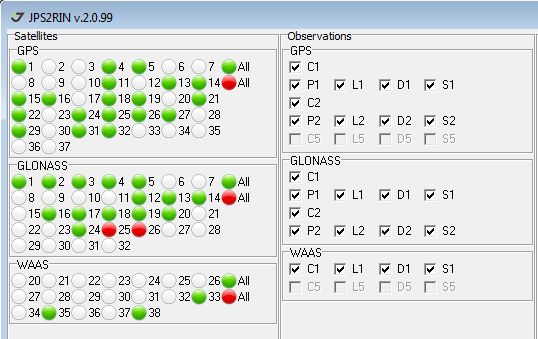 Thoughts?