I need to static 6 points and incorporate those points into a localized system that is on the LS. I plan to static the points (2 hours) and send to Web DPOS, then import those points to the localized coordinate system on the LS.
Is this the easiest way to get those static observations onto the localized coordinate system? If not, what are the options. Below are the residuals of my localization. The CPXX are the coordinates provided on the plans and the CPXX_fnd are points located by the LS, using the NCRTN. The collected points were 480 second observations, with 6 engines fixed. Plans state the points are localized, and from the LS's localization it appears they are ground distances. The vertical is listed as NAVD29, so those factors are what are to be considered with the new points.
CP15 and CP11 appear to have a vertical issue. I have located both of those points multiple times and the elevation on those points does not come anywhere close to what is published. I have ran a differential level through a few other benchmarks on the site, and I am finding 0.20' vertical inconsistencies on 2 of 3 benchmarks found. Plus the amount of error in CP15 and CP11, looks to be odd.
So is my 2 hour static session overkill, considering the localization was RTK with NCRTN? Would it be adequate to occupy the 6 new points with 480 second observations, on the Localized coordinate system page?
The end results will be for Trimble Machine Control Calibration, on 14K feet of New Sanitary Sewer Outfall. Curious as to what would be the best procedure to obtain the best consistency for the new points.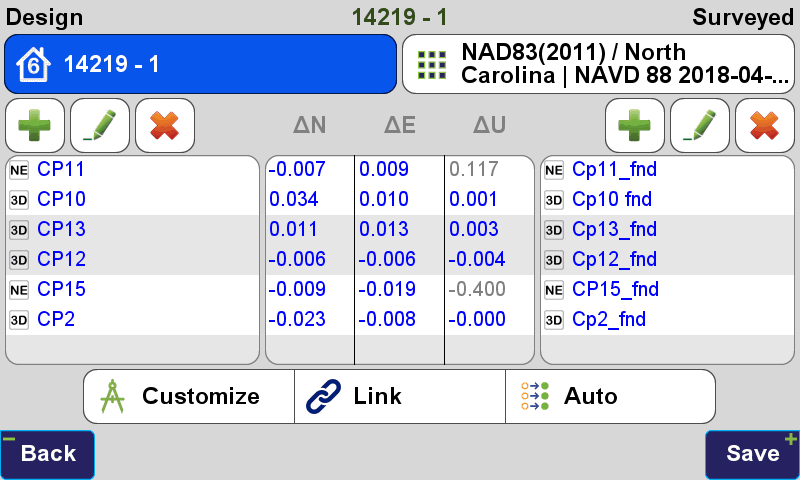 Thanks